OMC-140 TFT Display in demonstration on the UK BBC's "The One Show'
Tuesday 21 July 2015
Observator OMC-140 shown in ultrasonic wind measurement demonstration on the UK BBC's 'THE ONE SHOW' on Thursday the 16th of July 2015, along with the Gill Wind Observer II, Observator part No. OMC-118.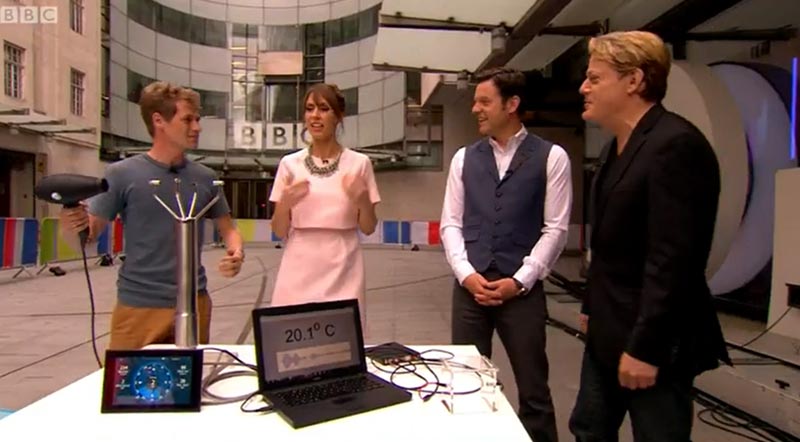 The OMC-140 Multifunctional TFT Display:
The OMC-140 is the new self designed and developed multifunctional TFT Display of Observator. Wherever you need to visualize your critical measurement information on a dedicated instrument the OMC-140 can be applied. Whether it is presenting wind information or indication of other meteorological parameters, the OMC-140 is the ideal instrument.
OMC-118 Ultrasonic wind sensor:
OMC-118 is used in cases an ultrasonic wind sensor is required. The WindObserver II can be connected to all Obsermet equipment like data loggers, signal conditioning units and displays using the NMEA or Polar format. The WindObserver II which has a standard 0..65 m/s is optionally also available in a 0..75 m/s range.
« back to news
By continuing to use the site, you agree to the use of cookies. more information
The cookie settings on this website are set to "allow cookies" to give you the best browsing experience possible. If you continue to use this website without changing your cookie settings or you click "Accept" below then you are consenting to this.